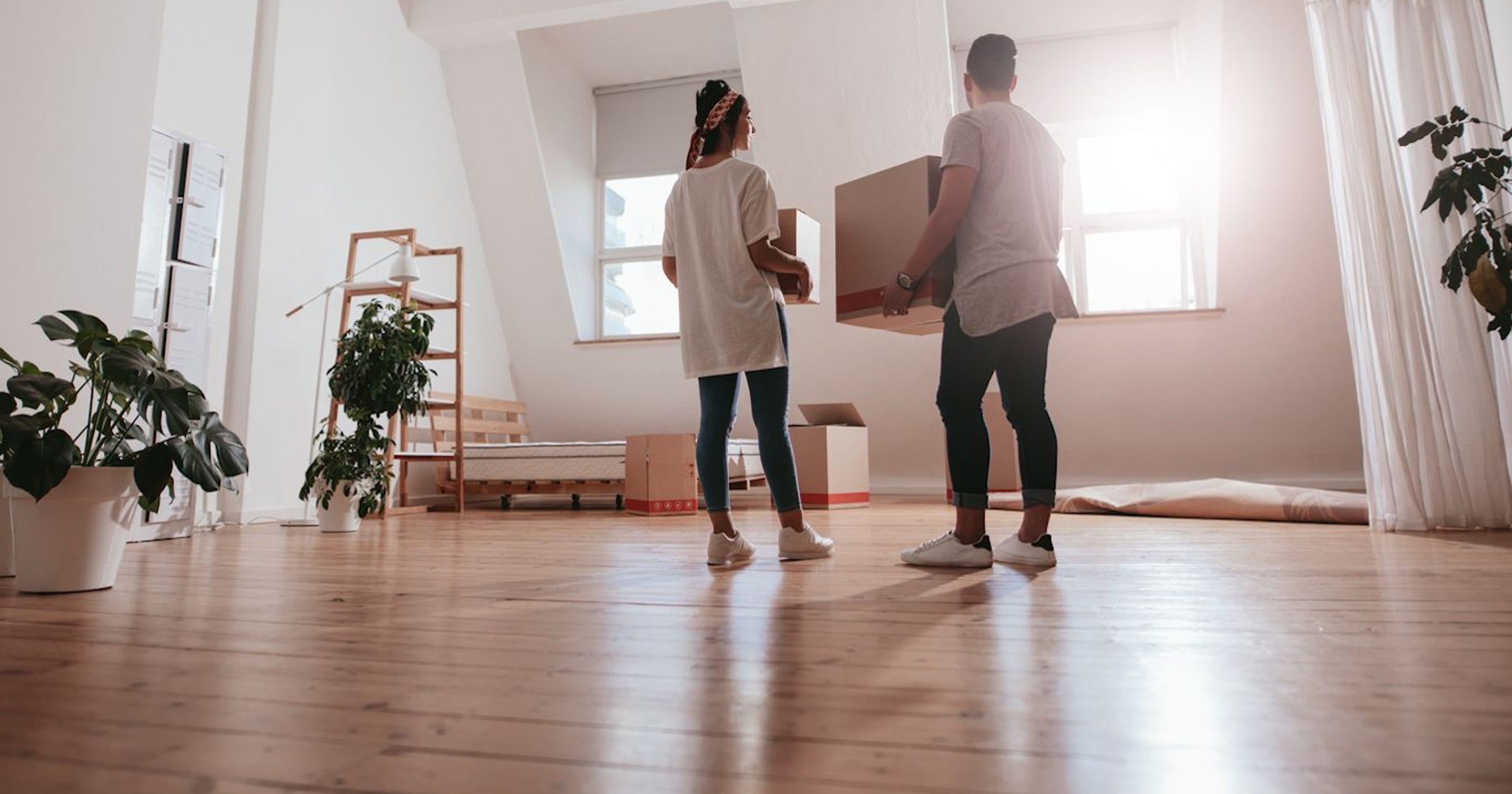 Oct 23,2019 cazapatos 0 comments
Planning and organizing a residential move can easily turn out to be one of the most challenging things you've done in years. There are so many things to do before moving into a new home that confusion about what to do next may often halt the progress of your moving preparations.
One of the biggest fears when getting ready to move out is fail to finish all the pre-move tasks on time, usually due to lack of proper organization. Sure, with a seemingly endless list of things you need to do before you move, it's only natural that you may forget to do a thing or two, but what will really matter in the end is to complete the tasks that really matter.
Here's a list of the most important things to do before moving into a new home. To guarantee the successful conclusion of your move, make sure you complete these essential tasks at all costs.
1. Find the Perfect New Home for You
The most important thing to do before moving into a new home is, quite obviously, to find a new home to move into.
When looking for an appropriate property to buy or to rent, think about the most important features you want your new home to have (a spacious yard, an open floor plan, etc.), consider its ideal location (distance to your workplace and your kids' school, transportation options, local amenities, crime rate and living standards in the neighborhood, etc.), decide on the size and type of dwelling that will best suit your lifestyle (2-bedroom apartment, large house, etc.), and make sure you choose a property in a good overall condition with a monthly rent or mortgage that does not exceed 25% of your disposable income.
2. Create a moving checklist to organize your move
Moving house is a highly transitional period where too many things need to be done within a very short window of time. The resulting concentration of tasks is one of the leading causes for the build-up of stress during the home moving process. Add the lack of sufficient time to complete all those jobs and you'll quickly realize the dire need for a good moving checklist.
A moving checklist is just a detailed to-do list of the things to do before you move. Here's how the creation of a moving planner will help you keep things organized and your time – well-spent.
Your personal moving checklist will keep reminding you just what it is that you need to do next. This way, you won't forget to take care of an important task while getting ready to move out.
Your moving checklist will speed up the preparation period by minimizing the downtime between the various tasks. You get a task marked as DONE, then you move on to the next one without wasting any valuable time.
The moving timeline you create will keep you focused on the most important jobs first, thus eliminating the possibility of failing to do any of the really important things to do before moving to a new city.
Creating a moving checklist for your own move is not complicated – just take a piece of paper and write down all the chores you must do before the day of the move. Once you're ready, it's time to prioritize that checklist of things to do before moving: rearrange all the tasks in order of importance, tackling the ones that are truly essential in your relocation instance.
3. Hire a good moving company
Stop wondering what to do before moving out of state and do what's best for you – that is, hire a reputable, trustworthy and affordable moving company to tackle the most difficult aspects of your upcoming move.
Once you take into account the big number of hidden self-moving costs and expenses, you'll quickly start to realize that using professional movers is the safest and most cost-effective way of moving to another part of the country.
Remember that hiring one of the best interstate movers will mean you'll get a custom relocation solution fit to your particular needs as a shipper of household goods.
4. Create a Moving Calendar
Having a list of things to do before moving won't be of much use unless you set appropriate time frames for the completion of each individual task. What you need to do is break the big moving jobs into mini goals, prioritize them according to their significance and difficulty, and define their deadlines. Personalize your moving timeline, so that it suits your particular relocation needs and requirements and stick to it, no matter what.
5. Set Up a Moving Budget
To get an accurate idea of how much money you will need for your relocation endeavor and find out if your savings will be enough to cover all moving-related expenses, you need to assess your financial situation and create a moving budget.
Figure in all the moving company expenses (movers' rates, extra service charges, etc.) or DIY expenses (moving truck rental, gas prices, road tolls, parking fees, etc.), the cost of the necessary packing materials, insurance costs, travel expenses, and post-relocation expenses. Set up a contingency fund for emergency situations and make sure you have at least double the amount you estimated as necessary for your move.
6. Decide on a Moving Date
Consider all the relevant circumstances (start of a new job, end of a lease agreement, school year, etc.) and previous engagements and commitments you have and decide on the best time to perform your move.
Keep in mind that moving in peak season will cost you a lot more than moving during the less busy period of the year, but don't forget the risks that come with the more unfavorable weather conditions from October to April either.
Be as flexible as possible and always have a plan B in case something goes wrong.
7. Pack up your things by yourself
Packing will definitely be one of the things to do before you move out of your house simply because that all-important entry in your moving checklist cannot possibly be forgotten… or skipped on purpose.
Packing for a move will be the toughest job you'll need to do when moving, and by far the most time-consuming one too. In fact, to be able to finish packing on time, you should start working on it from the very first day of your pre-move preparation.
With the exception of a number of specialty items, the packing job can be handled without professional assistance provided that you have enough time to do it at your own comfortable rate.
8. Collect Important Documents
Collecting and organizing all the records and papers you're going to need prior to, during, and immediately after your relocation requires a lot of time and effort, so you're advised to prepare the necessary documents well ahead of time:
Gather your personal documents, financial documents and property-related documents;
Retrieve medical records and school records;
Make sure you have all the required moving paperwork;
Sort out your documents, put them in separate folders or envelopes and label them properly;
Make copies of important documents (photocopies and digital copies) and take appropriate measures to prevent identity theft;
Keep your important documents with you all the time.
9. Take Care of Your Pets
If you're moving locally, it won't be too difficult to take your pets to your new home – you will be able to transport them in your car and there will be very little paperwork involved.
If you're moving long distance, however, relocating your pets will be a much greater challenge. There are many things to do before moving across country with your animal friends:
Check the rules and regulations in your new area concerning pets;
Take your animal friends to the vet for a full check-up, retrieve their vaccination records and request health certificates;
Get appropriate shipping containers;
Decide on the best way to ship your dog, cat, bird, or other kind of pet to your new home – by air (contact your chosen airline for additional information), in your own vehicle (take every possible measure to ensure the comfort and safety of your pets) or with a pet transportation company (choose trustworthy pet movers who will keep your animal friends safe and happy along the way).
10. Clean Your Old Home
One of the very last things to do before you move out of your house is to give it a final, thorough cleaning.
As exhausted as you may be at that point, you will most certainly want to leave your old home in excellent condition, so that you can get your security deposit back (if you're leaving a rented property) or make your house more attractive to potential buyers (if you're selling your home). Remove dust and cobwebs, wash the windows, mop the floors, vacuum the carpets, empty the wastebaskets, and lock the door to your old home one last time.
Our checklist of things to do before moving is complete – having completed all these tasks, you're ready to embark on your relocation adventure. Or do you not agree? Is there anything else to be done before moving out? Share your ideas with us!